Monaco Collectif Humanitaire
COMPLETED
Donation
Monaco Collectif Humanitaire
Save Nato
SAVE NATO
Finance Nato's operation, a 14 month-old boy living in Madagascar
Our Project
To operate in the Principality of Monaco children who suffer from heart diseases that cannot be operated in their home countries.
Our Ambassador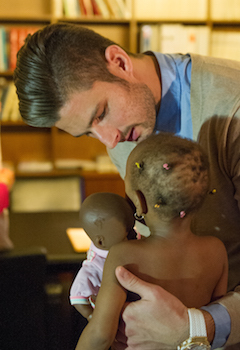 Olivier Giroud, the renowned footballer who plays for Arsenal and the French national team, has chosen to be the Ambassador for Monaco Collectif Humanitaire.
Olivier is a dedicated ambassador who gives time and funds some of the operations. Like him, help us save a child !
The goal of this fundraising
To take charge of little Nato's operation, a 14 month-old boy living in Madagascar. If more funds collected, it will allow the operation of another child.
Nato suffers from a heavy heart disease that cannot be operated in his home country. He urgently needs cardiac surgery to save his deficient heart.
How will the funds be used ?
Your donations will allow to finance Nato's operation and his hospital care at Monaco Cardio-Thoracic Center early in 2016.
The surgeon, the person who will accompany Nato during his trip and his host family in Monaco are all volunteers.
Nato's flight ticket is free since he is under 2 years of age, but his attendant's ticket will have to be paid for.
Monaco Cardio-Thoracic Center will only charge 50% of the regular fees for the operation and the hospital care.
How does the project work ?
A sick child is spotted by a cardiologist in his country
His file is sent to Monaco Collectif Humanitaire and accepted
The child's travel to Monaco is organized.
The child is welcomed by a host family who take care of him/her on a benevolent basis throughout his/her stay
Operation at Monaco Cardio-Thoracic Center
The child returns to his family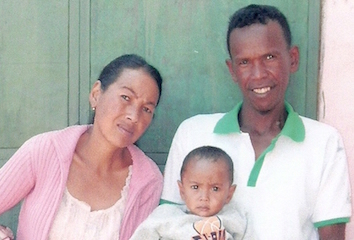 Nato's story
Nato was born in Madagascar at Amparihivato, in the countryside, 60 km away from the capital, Antananarivo.
Nato started having frequent bronchitis at 4 months old and has stopped putting on weight since he was 8 months old.
He was sent to hospital in June 2015 and the doctors diagnosed a congenital heart disease. The hospital pediatrician recommended Nato should be a patient of the cardiac pediatric mission run by the Reunion branch of the association "Médecins du Monde" (World Doctors).
In September, the child is visited by a cardiologist from "Médecins du Monde" who diagnoses a heavy heart disease (muscular VIC ) that needs to be operated in Monaco.
On October 30th, "Médecins du Monde" sends Nato's medical file to Monaco Collectif Humanitaire who accepts it.


Who we are ?
A chain of solidarity aimed at offering a second life to children from the developing world.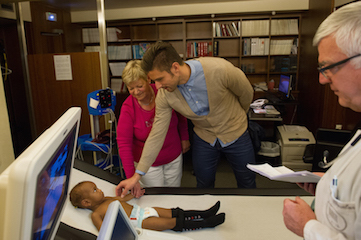 Monaco Collectif Humanitaire is a group of 21 Monegasque NGO and 3 French associations following the same goal : to save children afflicted with a heart or sometimes an orthopedic disease.
Three medical centers are partners : the Monaco Cardio-Thoracic Center, the Princess Grace Hospital and the Monegasque Institute of Sports Medicine and Surgery (IM2S)
Monaco Collectif Humanitaire has already taken care of more than 260 children.
For more information : www.mch.mc
Donors :
Clement Le Jamtel - Meriam Meziani - Mark Gordon - Daniel Hey - Luis Ordaz - Jonathan Millard - Nicole Morchio - ToddMontes - Sarah Iveson - david vanachte - SusanRisbridger - Géraldine Motillon - Isma Dela - Emilie Ranaivoson - Anton Salamon - Christine Sosso - Gilles LAPIERRE - sefa kunduz - Jess Campbell - Tuan Tran - Andy Kwong - Jannik Eggerman - Tian Shu Luo - Ricardo Ramos - Karmi Patel - Alamo City Arsenal - Natalia Maria Bordotti Moreira - Karen Kavanagh - Nabeel Qazi - Jessica Tchobanian - Mohamed ELBOUHY - Elaine Mendes - Alexandre LE GALLO - Khushboo Chandiramani - Benjamin Laplace- breda sheahan - Daniel Borgertpoepping - Aesha Duong - Celine Flattin - Mariottini Jonathan - Saagar Raithatha - Omar Luqman - Guillaume Schoeffel - Delme Jones - Anthony Margetts - Carol Radel - Jean-Jacques Noblanc - Rachael Baines - Alison Vickers - Tony Bayliss - Julien Boutoille - Kuban Krista - Ailsa Smellie - Kaitlyn Williams - Niall Manson - eric dulphy - Camilla Andersen - Lilio Auffrais -Patrick Karat - Taran Ranger - Max Karat - Dawn Oliver - Alexandre Cottin - Marion Oheix - Lauren Mc Fadden - Daniel Brierley - Lucas Schuber - Rachel Gibson - Bryan Annino - marielle cremier - Matthew Bottrill - Azeem Yusufali - Max Grainger - Karl Sandnes - Cheryl Teo - Jacob Assoignon - cdoublev - Mélanie Rameau - Sarah Thimotée - Cedric Roussel - Petar Tzvetanov - Paul Ashurst - Greg Birch - Fanny Sivkov-Héloin - Chris Cowan - Anna Matos - Steven Dufeil - Eric Depoorter - Roslyn Keiza - calbears96 - Ismaellah Joolfoo - Ali Faleelhussein nassereldin - Michael Wachouschek - Bradley Peppett - Vania Santana - Zheng Xuan Lee - Daniel Ferguson - Leslie Merle - Vania Santana - Youness Kassemi - Romain DUFOUR - Julien Bruyas - Ove Carlsen - Baptiste MACHER - Sebastien Charrot - Yannick Boudaillier - Elaine Souza - Taylor Moyes - Enda Dolan - Anthony Rodriguez- Alex Blakeman - Madeline Centeno - Katie Tsui - Bruno Salmon - Kara-Anne Cheng - vashorter - Sabrina REMOND - Gurvan Godin - Fredo68 - Christa Ktorides - Varis Shnatepaporn - Melissa Waters - Frédéric Péguet - johanna lawler - Nickie Mak - Susan McConnell - Damour Fanny - Léa Mougenot - MARINE CADORET - Jessica Brandt - MARINE CADORETT - sz Wai Lai - George Munyard - Eoghan Mitchell - Sam Shipton - frankii dynes - Sam Shipton - Thomas Vasseur - Steve Aitken - Franky Zhu - Audrey Audouys - Anicé - Bex Dennis - Lucie Lachaux - Adrien Valite - ariane barbot - Jessica ADEMAIN - Louis-Amaury Lodier - JOSE ASARAU - mi Hasman aaron dhami - Audrey Fusco - Audrey Koch - Ahmed Mouelhi - Sarah Boissarie - Martin Cornell - Anne-Gaëlle Brandeis - Denise Blazy - Michael Black - Aurélien Bordelais - Robert Stein - Haavard Bockmann - paul gaillard - Selina - Steven Duhamel - Ulrika Lindh - Frank Gunnar Robertsen - Karine Solé - Edmund Heng - Constance Sebert - Anaelle Ferrand - Rachael Wright - Ophélie Calon - Coralie Ollinger - Sarah Walker- Laura Burton
Choose your reward
7 € and more
Remerciements
Remerciements sur la page Facebook d'Olivier Giroud
15 € and more
Photo
Photo signée d'Olivier Giroud
20 € and more
Photo de l'équipe d'Arsenal
Photo de l'équipe d'Arsenal signée par Olivier Giroud
30 € and more
Photo de l'équipe de France
Photo de l'équipe de France signée par Olivier Giroud
40 € and more
Photo d'Olivier Giroud (Arsenal)
Photo d'Olivier Giroud (Arsenal) signée et dédicacée à votre prénom
100 € and more
Remerciements vidéo
Remerciements vidéo d'Olivier Giroud sur sa page Facebook*
150 € and more
Poster signé
Poster signé par l'équipe d'Arsenal
170 € and more
Ballon signé
Ballon signé par l'équipe d'Arsenal
200 € and more
Maillot
Maillot de foot signé par Olivier Giroud
300 € and more
Chaussures
Chaussures de foot signées par Olivier Giroud
350 € and more
Maillot
Maillot de foot signé par l'équipe d'Arsenal
1200 € and more
2 places Arsenal-Southampton
2 places pour le match Arsenal-Southampton le 2 février 2016 dans la loge privée d'Olivier Giroud
1400 € and more
2 places Arsenal-Leicester
2 places pour le match Arsenal-Leicester le 13 février 2016 dans la loge privée d'Olivier Giroud
1700 € and more
2 places Arsenal-Chelsea
2 places pour le match Arsenal-Chelsea le 23 janvier 2016 dans la loge privée d'Olivier Giroud avec Pass Players Lounge pour rencontrer les joueurs d'Arsenal